Columbia Basin News
T.J./OK95RADIO.COM NEWS DIRECTOR
LISTEN WEEKDAY MORNINGS 5-10 TO MAX N' THE MORNING FOR T.J.
LIVE, LOCAL WEATHER AND NEWS EVERY 30 MINUTES!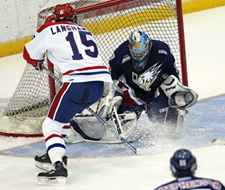 AMERICAN'S, WHAT A SEASON!
It was DO OR DIE Sunday for the Americans. Unfortunately the Am's lost in the final seconds of the 3rd period against Kelown. Kelowna now moves to the WHL Championships.
Look forward the an even bigger season next year as the AM's return with many of its stars…but so will Portland, Everett, Seattle and Kelowna!
Thanks for great entertainment Americans!
GO AM'S!!!!!
BODY FOUND IN RIVER….
Police recovered a body from the Snake River in Idaho Falls that is believed to be that of a Richland man missing 4 months ago. Gary Church, 54 of Richland was last seen in Idaho Falls around midnight November 21st. Church was known to work at times in the Idaho Falls area and frequented a club down the road from his motel. Church was last seen around 2am walking back to his hotel across the bridge. Shortly after a construction worker called authorities reporting a body floating down the river. Recent warmer temperatures are likely the cause for the surfacing of the body.
NEW WAL-MART IN PASCO
Another Wal-Mart is scheduled to begin construction in the Tri Cities. You'll find the new Wal-Mart off Road 68 next to the new Yokes store. It's one of the fastest growing area's in the region and builders are also preparing to open a BlockBuster video store, HAPO branch and Medial Clinic within the same strip of Road 68 within this year.
HIGHWAY 12 CONSTRUCTION
Construction continues on Highway 12 where 8 miles travels through the McNary National Wildlife Refuge and other environmentally sensitive wetlands which bring difficulty in widening from 2-4 lanes.
There have been 707 accidents and 30 deaths on the highway from 1991-2001. The state department stated that the project is estimated to cost at lease $188 million to widen all 36 miles of the highway.
The first 3 mile section is to open this fall but no date has been released for the entire project.
Canal Drive Re-Surfacing
Work is soon to begin on Canal Drive on Kennewick. Pot holes and cracks have been appearing rapidly over the last two years as more traffic and weather extremes hit the Tri Cities. Be prepared for delays during the spring months as construction begins.